See our guide on how to create the perfect skincare routine. It takes 3 simple steps, so will easily fit into your daily routine!
How to create a daily skincare routine
Establishing a daily skincare routine can feel a bit daunting, especially if you're just starting out. What products do you need? How many times a day should you apply the products to your skin? Is there a specific order to follow? What if you overdo it? What if you don't do enough?
Everyday Skincare has been developed with these questions in mind, making sure each range and products are easy to understand and navigate. With clear packaging showcasing shapes and colours to help guide you, Everyday Skincare has been carefully created so you can pick the perfect routine for you and your skin!
In this guide, we'll provide a few simple steps to help you create a daily skincare routine using Bondi Sands Everyday Skincare.
First things first. You need to make sure you're using the right products for your skin. It's a very personal thing. What suits one person won't necessarily suit another; a skincare routine for oily skin won't be the same as skincare for dry skin, for example.
If you're not sure of your skin type, the Bondi Sands Skin Quiz is a useful starting point. Covering a range of skin types and conditions – normal, dry, oily, sensitive or a combination of oily and dry – it just takes a few quick questions before recommending the perfect Everyday Skincare combinations suited just for you! Helpfully, it will even suggest products for morning and evening skincare routines – give it a try!
Skincare routine basics 
Regardless of the products you use, most skincare routines will include these three essential steps:

Cleansing

Treating

Moisturising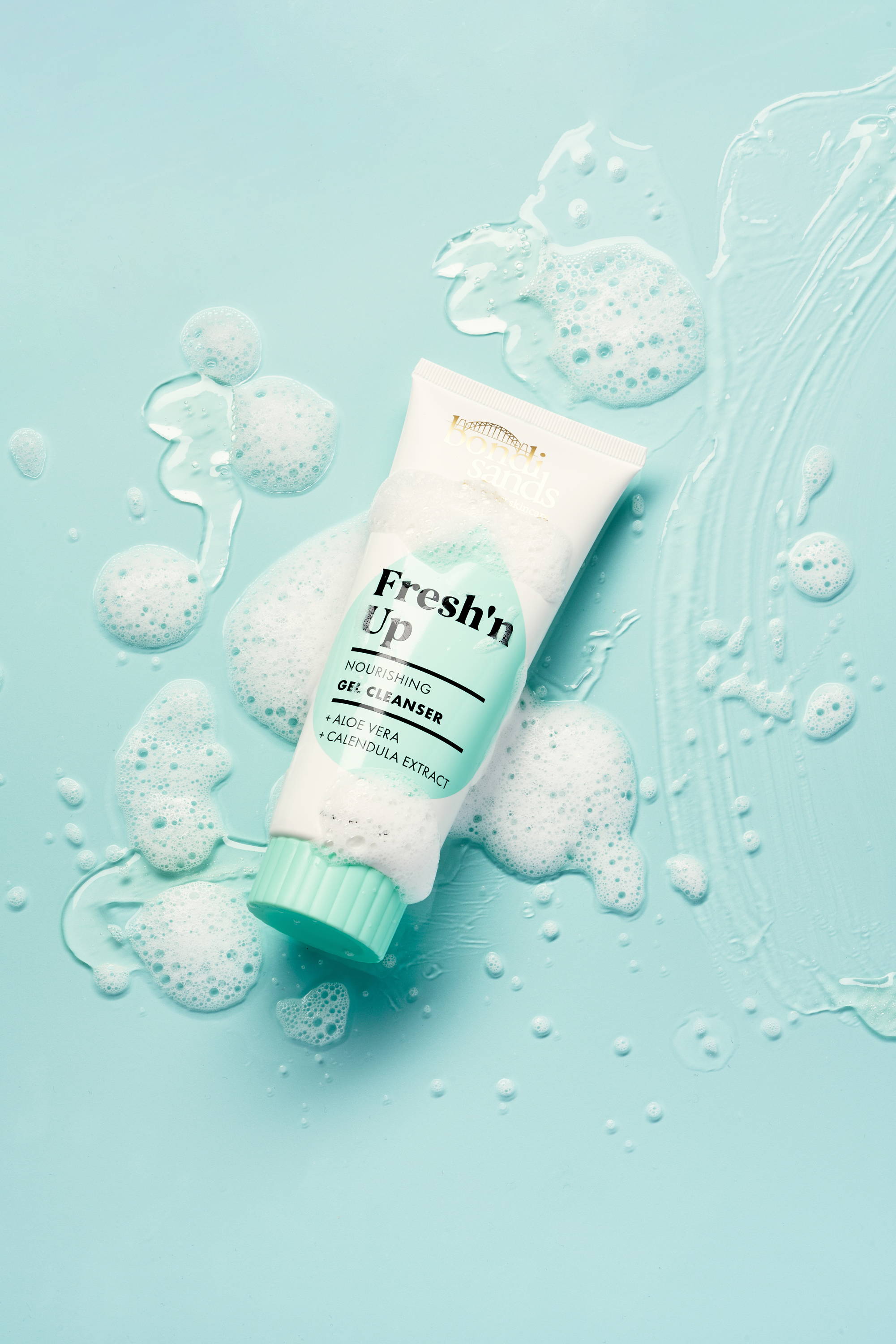 Cleansing
Cleansing, or washing, your face, is one of the most essential parts of any skincare routine. During the day, or even overnight, your skin is exposed to all sorts of elements – wind, rain, sun, dirt and other pollutants, so it's important to cleanse your skin and gently wash these away, getting rid of any impurities. 
If you don't wash your face thoroughly to clean away the grime – trust us, it's there, even if you can't see it – then the products you apply next won't have the maximum effect.

You'll want to use a product that's kind to your skin, not harsh or abrasive, as your skin contains healthy oils that should be preserved.
Why not try?
Fresh'n Up Gel Cleanser – enriched with Calendula Extract, Chamomile and Aloe Vera, this gentle gel cleanser soothes irritation and removes make-up and impurities,leaving the skin feeling nourished and refreshed.
Treating
Treating your skin is the next step in your Everyday Skincare routine. Our range of Treatment serums and oils are designed to target common skin concerns for brighter, hydrated, blemish-free skin and are suitable for all skin types (even the sensitive ones!). 
Packed with natural Australian botanicals and powered by high-level actives, our Treatments have been tested by real people and created with skin experts so you can use them with confidence.
Why not try?

Gold'n Hour Vitamin C Serum – infused by Vitamin C, Liquorice Root Extract and Kakadu Plum, this Vitamin C Serum is best used in the morning to brighten and revitalise skin, whilst also reducing the appearance ofpigmentation, inflammation, scarring and redness.
Thirsty Skin Hyaluronic Acid Serum –whether your skin is dry, dehydrated or in need of a little hydration boost, our Hyaluronic Acid  serum will intensely hydrate skin and aid moisturise retention. 
Moisturising
The third part of any essential skincare routine is moisturising. You should moisturise as part of both your morning and night time routines. Moisturising products are designed to keep your skin hydrated throughout the day. If you're spending time outside and will be exposed to the sun, make sure you use a daily SPF to get the protection you need. 
On that note, when applying moisturiser in the morning, you should really consider a product that has sunscreen within it to help protect your skin from the harsh effects ofUVA & UVB sun rays. As we know, the sun prematurely ages skin more than anything else. If you don't use a daily SPF, try combining your skin and suncare together with Bondi Sands Sunny Daze SPF 50 Mineral Moisturiserfor everyday protection. You can read more about how to keep your skin safe in the sun here.
Moisturising as part of your night time skincare routine helps to repair any of the damage that your skin might have suffered during the course of the day.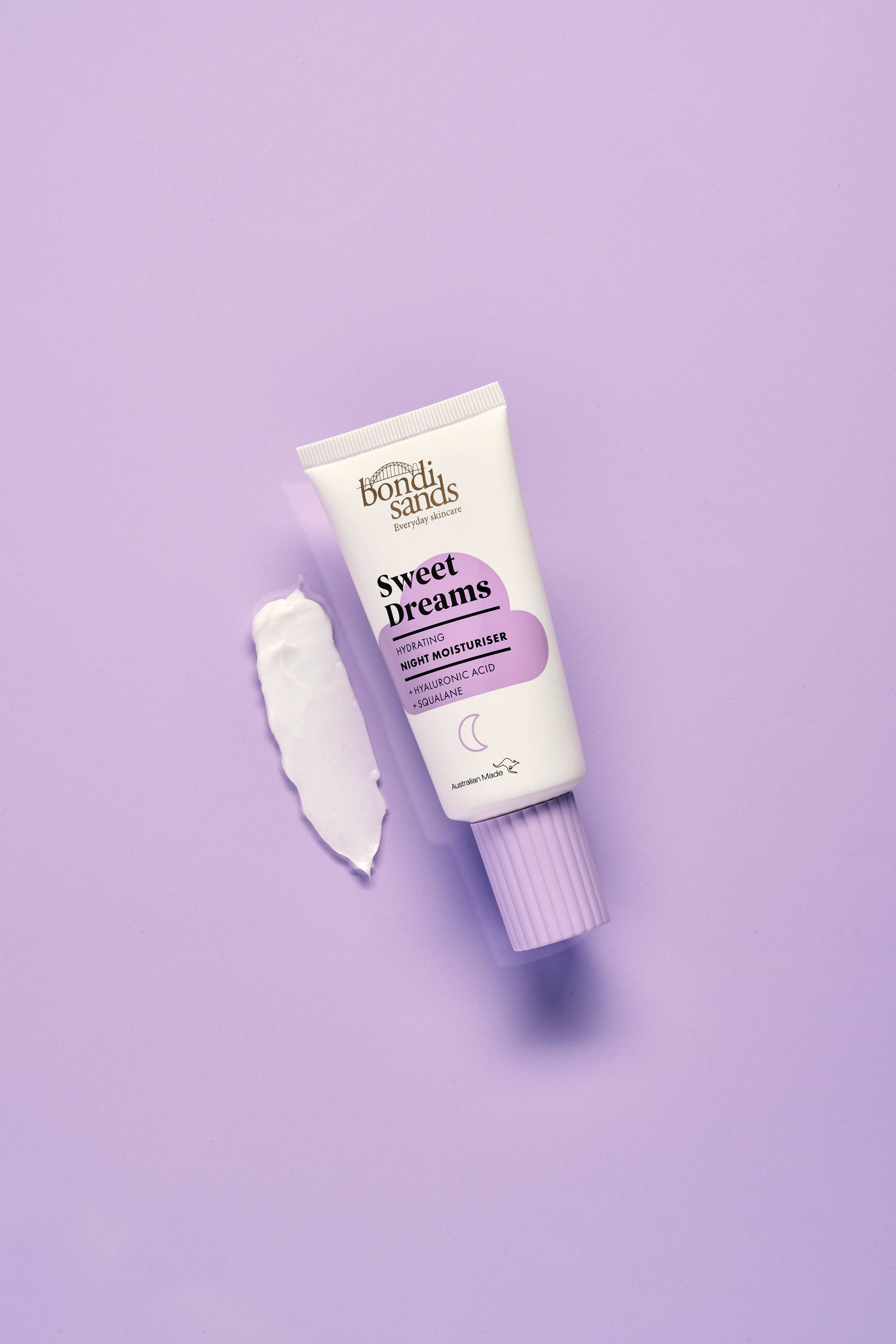 Why not try?
Sunny Daze SPF 50 Mineral Moisturiser –Combining skin and suncare, Sunny Daze SPF 50 Mineral Moisturiser provides up to 72 hours of hydrations whilst also protecting your skin from the sun. Featuring a universal tint to counteract white cast for an invisible finish, Sunny Daze is suitable for all skin tones and types.
Sweet Dreams Night Moisturiser – providing up to 72 hours of hydration, this nourishing moisturiser is the perfect night cream, to help your skin replenish and repair overnight.
Morning skincare routine v Night time skincare routine
Although many of the essential steps of a skincare routine should be used both morning and night, there are some key differences in what you should be using throughout the day and at night. 
For example, your morning skincare routine should always start with a cleanser to wash your face and start with a fresh base for your remaining products to follow. This would then be best followed with an eye serum and treatment, then moisturiser.
Your nighttime skincare routine should begin with removing any make up you've been wearing all day – please, please, don't go to bed still wearing make up! Try double cleansing to ensure you have removed any makeup before applying your next skincare products.
In the morning, your last, but most important step should be applying sunscreen, especially on the hot days of summer when the sun is out and temperatures are high. Even on cloudier days, there's still a risk of damage. 
Of course, sunscreen isn't needed for your nighttime skincare routine. Instead, before bed, wrap it up with a night moisturiser or, if you like, add a nourishing face oil - try our Hero Oil  – to really lock in moisture during those precious hours of sleep.
Now you have the basics of what's needed for a daily skincare routine, you can start to build your own personal plan. Explore our Everyday Skincare range to find products to suit you. 
We cater for all skin types, and our products are packed with Australian botanicals, high level active ingredients and have been tested by real people. Not only that, they come in 100% recyclable post consumer packaging, so they're kind to the environment as well as your skin!