Be beach ready, or all set for a night out with your squad looking your best with little effort. We show you how it's done.
Effortless beauty means being prepared for anything – never leaving home without the basics, basking in your inner confidence, and being comfortable in your own skin. It means you can be selfie-ready at a moment's notice.  
Think Melbourne-born model and Bondi Girl Steph Claire Smith – she's bursting with sizzling confidence on social media but still remains down-to-earth with her gorgeous, carefree attitude. Or be inspired by the active lifestyle of holistic wholefoods champion and model, Hannah Polites. A full-time midwife, Hannah manages to set aside time to share her healthful living rituals on social.
So, with our faves in mind, check out our effortless beauty tips. You'll be looking and feeling awesome – inside and out!
Looking Good: Body Basics
The Perfect Tan
Introducing Bondi Sands Liquid Gold! This tanning wonder stands out. For the first time, this is a tan that fits in with your busy schedule and dries in no time. Liquid Gold gives you the ideal shade of sun-loving sunkissed perfection, as it glides on with ease, develops over eight hours and lasts for about a week. It's perfect because there's no washing off, no sticky feeling and no tanning smell. Effortless means not only looking good, but also doing good for your skin in one go. Enriched with argan oil, which is hailed for its high vitamin E and fatty acid content, Liquid Gold will also hydrate and nourish your skin as well as give you the perfect glow.
There's no need to go into tanning lock-down either. The best thing about Liquid Gold is that it's working for you – the tan develops while you go about your day. Ready for after-work mingling, you will be bronzed and delicious – no shower required! For a deeper tan, reapply after about 30 minutes so Liquid Gold can give you that darker shade of bronze you desire. Hit the beach and get ready for glistening sunsets.
As the week goes on, make sure you pat yourself dry when getting out of the shower and moisturise daily with Bondi Sands Gradual Tanning Milk. For expert tricks to make your glow last, check out our tanning tips.

Looking Good: Face It
It's time to face facts! Fresh, radiant skin is all yours thanks to the basics – cleansing, toning and moisturising daily, as well as eating well, but it's also about attitude. Having oodles of confidence to 'own' your look means you can literally put your best face forward. Sometimes, we all need some pointers to make sure our effortless look stays flawless from day to night.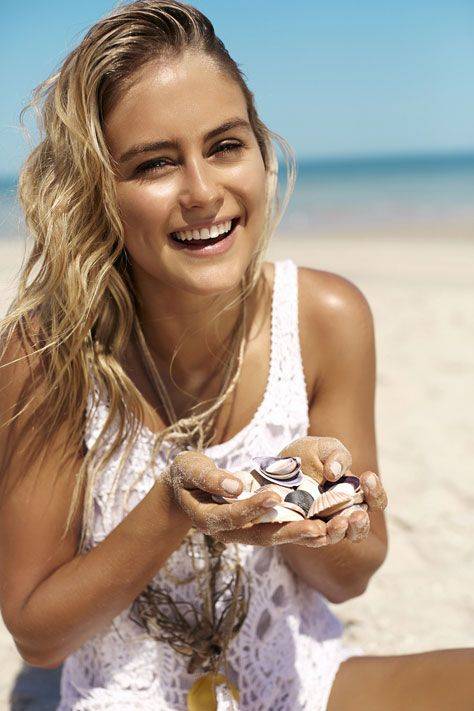 Puff Be Gone: Treat puffy eyes with a teaspoon you've left in the freezer for about 30 minutes. Hold it underneath your eyes for 30 seconds for a more wide-awake look. Apply concealer in 'triangles' under the eyes to your cheeks and blend well with your foundation.
Locking Lips: Use a toothbrush to massage your lips gently, removing dead skin cells. Pick your favourite lipstick colour, and to make it last longer, apply translucent powder with a blush brush (over a tissue) in between coats for the perfect pout.
The Eyes Have It:For flirty, fluttering eyelashes like a Hollywood starlet, apply baby powder in between coats of mascara for fuller lashes.
Wave Hello To Beach Waves:For perfect sea salt-tinged waves, make your own sea salt spray with hot water, sea salt, coconut oil and leave-in conditioner. Or better yet, head to the beach!
Feeling Good: Exercise Your Mind & Body
If you're on your way to effortless beauty on the outside, it's time to check in with your exercise routine. This is nothing too epic – just something to make sure your body is fit and you feel healthy, so you can tackle whatever comes your way. Effortless beauty could be jumping some ocean waves – hello, cardio! – or taking a yoga class to improve your flexibility.
If you watch Steph Claire Smith on Snapchat, you'll see she has daily doses of exercise to help with body, mind and spirit. This could be your way to conquer a problem and get in some valuable exercise. Or, you could just walk fiercely like Beyonce.
Just as your body needs attention, so does your mind. Nourish your soul with meditation. It's a way to find calm in the chaos. Don't have time to meditate for half an hour? There are apps available that have bite-sized meditations that run for two to three minutes – you can listen to them while you're waiting in line to order your favourite smoothie!
Effortless beauty is all about what works for you.
Being Good: Eat Well, But Don't Deny Happiness
Eating healthy shouldn't be a chore – it should be fun and adventurous! A good diet is so important when it comes to effortless beauty. A smoothie or juice works wonders for warmer days. Soups are nourishing all-year around. Stock up on veggies and your favourite cheese to make an epic pizza. For dessert, fruit salad coated in coconut yoghurt is beyond amazing. Introduce a treat and find yourself that Nutella doughnut and enjoy it! Because doughnuts are nourishing for the soul, too.
So, they're our picks for effortless beauty tips. Share your favourite tip with us on Instagram #BondiSands and check out our range of products to make your tanning ritual even more effortless!