Have you met our Bondi Babe, @sophadophaa_?
We are literally obsessed with Soph's viral TikToks, trendy style and now, her iconic Aussie bronze.
So just how does Soph get her glow? She uses her two favourite Bondi Sands self tanning products, our 1 Hour Express Foam & Face Mist, and she came into our Studio Bondi to show us how she does it! Perfect for all tanning levels, whether you're an experienced tanner or a  beginner, our 1 Hour Express formula has a colour guide so you don't miss any areas during application, and you can customise the depth of your tan by leaving it on for 1 - 3 hours.
This one is for all those busy Bondi Babes out there, so make sure to send this routine to a bestie who is ALWAYS late! They're in need of our 1 Hour Express Foam ASAP.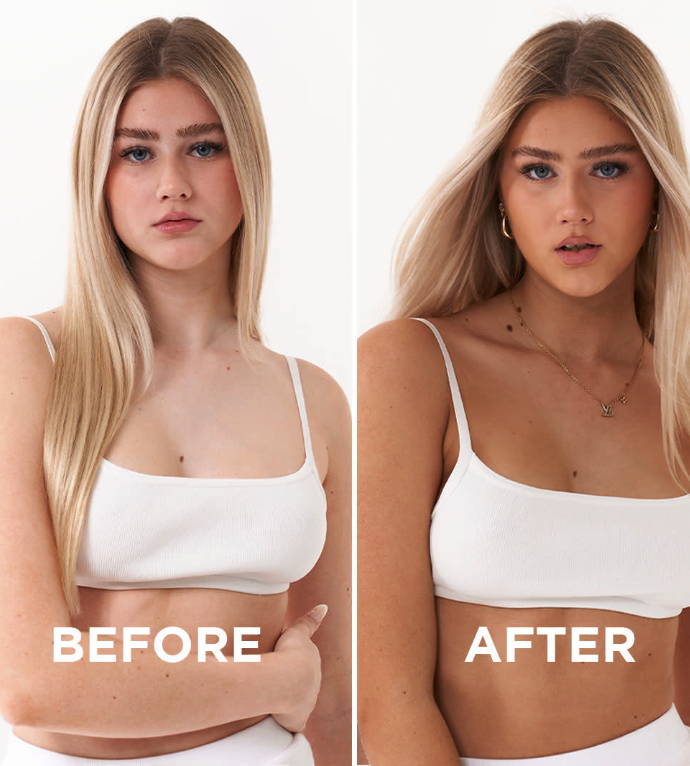 Step 1: Prep The Skin
Soph likes to exfoliate the night before she applies her tan using the Bondi Sands Tan Eraser and Exfoliation Mitt to remove any old tan, whilst also ensuring skin is silky smooth prior to tanning to prevent any uneven patches.
Before applying your tan, use a moisturiser on any typically dry areas like elbows, knees, ankles and wrists. Soph's fave is the Bondi Sands Coconut Body Moisturiser, which has been formulated self-tan friendly so you get the most from your glow.
Step 2: Tan Time
…or as Soph says "the best part of the week"!
Taking our 1 Hour Express Foam and an Application Mitt, Soph starts with her legs using about two pumps of foam for one calf, working her way up the body and buffing in using long, circular motions. Be careful with the knees, Sophs recommendation is to just swipe over them once you've applied the tan to the lower and upper leg.
For the upper body, once again Soph uses two pumps of foam per arm and one large pump for the chest and neck, blending up to her jaw bone. Using the excess product on the Mitt, buff over the hands and fingers. As our hands and fingers can pick up tan very easily, it's important to not use too much product.
Soph's Tip: After pumping the foam onto the Mitt, fold your hand closed gently to spread the foam over the Mitt for easier application.
Step 3: Tanning The Face
For those "bronzed goddess" vibes, Soph loves to tan her face as well. Bondi Sands has got her covered with a range of face tanning products to choose from, and now the 1 Hour Express Face Mist for a head-to-toe Express glow! Soph loves this face tan, as it's been specially formulated to not clog your pores and will leave you with a "nice bronzy glow"! We're sold Soph!
Spraying the face mist onto our Application Mitt, Soph applies the Express Face tan in a '3' motion, starting above the eyebrow, moving down onto the cheek, and finally across the jaw to draw the number 3. Once applied Soph takes our Bondi Sands Body Brush and buffs the tan out.
Soph's Tip: Leave our 1 Hour Express tan on for 3 hours for her deeper bronze look!
Step 4: Tan In Comfort!
Our Tanning Tee is a self tan marination outfit that's perfect for a committed Bondi Babe. Comfy, practical and oh-so-adorable, we can see why Soph loves it! Get it exclusively on Bondi Sands online.
We hope you love Soph's 1 Hour Express tanning routine as much as we do and you can check out the full routine on our Youtube channel.