Everyone has their own way to self tan, whether that's tanning tip to toe, toe to tip or front to back. No matter how you do it, the one thing we should all have in common is owning the right set of tools to create that all important flawless finish.
Think of it like applying makeup. If you tried to create a smoky eye with a bronzer brush, rather than an eyeshadow brush, you're going to end up with a slightly questionable result. Apply that same logic to self tan and you'll start to realise the importance of some of our most trusted tanning tools.
With three different applicator tools in our range, we thought we'd give you the 411 on what they do and why they'll do wonders for your tanning routine.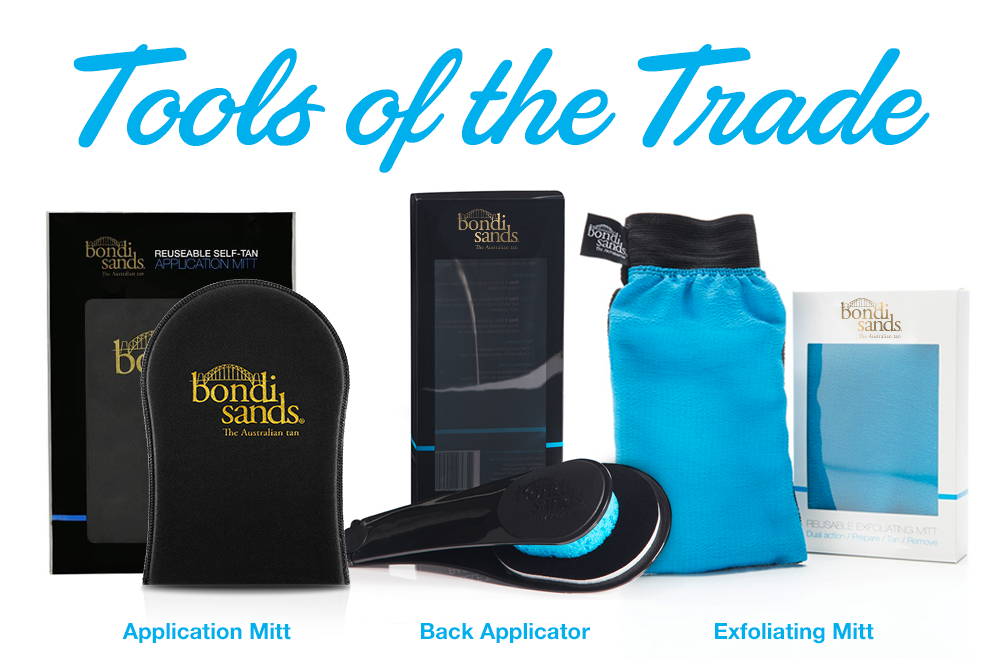 Ah, the ultimate flawless finish applicator. Where would we be without one of these? Well it's safe to say our tans wouldn't be nearly as on point and don't even get us started on the state of our palms! That really is the stuff of tanning nightmares, but thankfully we don't need to think about that as we've always got a trusty tanning mitt nearby. Unlike your hands, this guy is made of special fibres that allows you to effortlessly apply any self tan to the body, keeping your hands stain-free and your glow streak-free.
To use simply apply your favourite tan to the mitt and then work the product into your skin, using long sweeping motions. The Bondi Sands Application Mitt is reusable, so in-between applications, remember to soak it in soapy water, rinse and let dry.
Despite our best efforts and some seriously impressive bathroom yoga moves, there are just some places that a normal tanning mitt can't reach. So rather than roping in your partner, family member or next door neighbour (we've all been there), we've got the perfect tool to effortlessly tan your back.
Our double ended Back Applicator snaps into place and puts all of those hard to reach areas, instantly in reach. To use, apply your chosen product to the applicator, then start at the centre of your back and work your way outwards. It couldn't be easier and it will have you questioning why you didn't have this in your tool kit sooner.
So now you've got your applicator tools and you're bringing some serious tanning A-game, there is one last thing to add to your collection. No matter how perfect your tanning routine, it's still important to prepare your skin before applying. This is where an Exfoliating Mitt comes in handy.
The Bondi Sands Exfoliating Mitt will help remove old self tan as well any dry skin cells, leaving you with perfectly prepared skin. Not only good for exfoliating, this multi-tasking babe will also help to erase any tanning mistakes. Just remember to use the blue side for removing mistakes and the black side for exfoliating. For best results we recommend using alongside our Self Tan Eraser, the foaming cleanser that will remove tan within just five minutes.
So never mind the three golden rules, stick with these three golden tools and your tan will always be looking on fleek!
Happy Tanning Lovers x